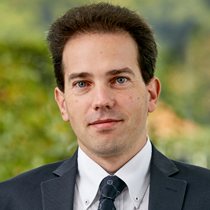 Dr Andrea BECCARO
Research Fellow, European Neighbourhood Policy Chair
Dr. Andrea Beccaro holds a Master degree on History of Contemporary Political Thought and a Ph.D. in Strategic Studies. In his doctoral dissertation, he examined the Operation Iraqi Freedom (2003-2011) from a strategic and military point of view, focusing on contemporary debate on transformation of war and RMA, irregular warfare theory, and COIN (counterinsurgency) doctrine.
After obtaining his Ph.D., he has taught several courses, including International Relations at Scuola di Applicazione of the Italian Army in Turin and Security Studies at Post Conflict Operations Study Centre of the Italian Army in Turin. In 2015, he was a DAAD Fellow at Freie Universität Berlin. Dr. Beccaro's research interests range from politics to war and warfare. His work focuses on irregular warfare, including its history, evolution, and contemporary case studies, as well as war theory, modern terrorism, urban warfare, and on current security and geopolitical situation of the southern European neighborhood.
Dr. Beccaro has published three books and numerous scholarly articles in journals. His latest works include:
Beccaro, A. Carlo Bianco and guerra per bande: An Italian Approach To Irregular Warfare, in Small Wars & Insurgencies, 27:1, 2016, 154-178
Beccaro, A., Bertolotti, C., Suicide Attacks: Strategy, from the Afghan War to Syraq and Mediterranean region. A triple way to read the asymmetric threats, in  Security, Terrorism, Society, n. 2, 2015, pp. 21-59.
Get in touch
+48 22 54 59 469
ul. Nowoursynowska 84, PL-02-797 Warszawa | Rectorate, room 9